ChIP DNA Clean & Concentrator
D5205 / D5201
ChIP DNA Clean & Concentrator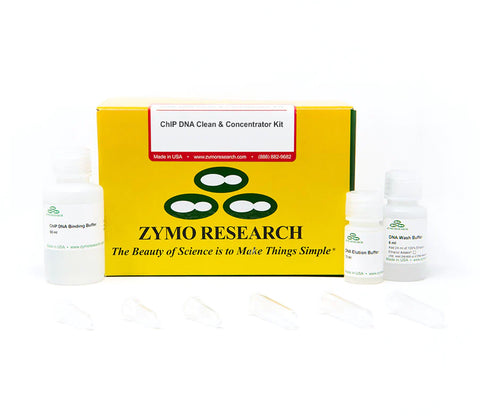 Highlights
---
Two minute DNA clean-up from any step in a standard ChIP protocol.
DNA is ideal for PCR, arrays, DNA quantification, Southern blot analysis, sequencing, and other molecular applications.
Description
---
The Chromatin Immunoprecipitation (ChIP) DNA Clean & Concentrator provides a hassle-free method for the rapid purification and concentration of high-quality DNA from any step in a standard ChIP protocol. This includes samples that have undergone reverse cross-linking, Proteinase K or RNase A digestion, mechanical or nuclease-mediated DNA shearing, and samples eluted from chromatin-antibody-bead complexes. The specially formulated ChIP DNA Binding Buffer promotes DNA adsorption to the column in the presence of detergents, antibodies, and proteinases that are often used for ChIP.
---
Elution Volume
≥ 6 µl
Processing Time
2 minutes
Recovery
70-90% for DNA 50 bp - 10 kb
70% for DNA>10 kb
Size Range
50 bp - 23 kb
Storage
All components should be stored at room temperature.
---
Cat #
Name
Size
D3004-4-10
DNA Elution Buffer
10 ml
D4003-2-6
DNA Wash Buffer (Concentrate)
6 ml
C1004-50
Zymo-Spin IC Columns
50 Pack
C1003-50
Zymo-Spin I Columns
50 Pack
C1001-50
Collection Tubes
50 Pack
D5201-1-50
ChIP DNA Binding Buffer
50 ml