MAGicBead™ cfDNA Isolation Kit
D4086 / D4086-Custom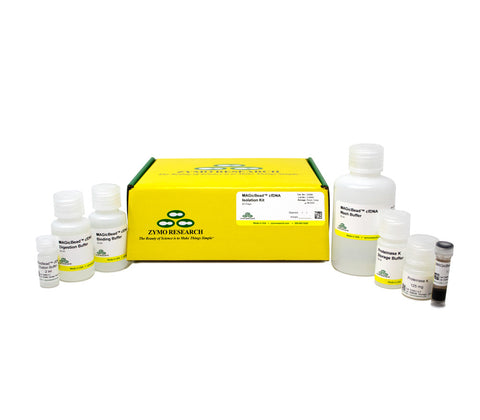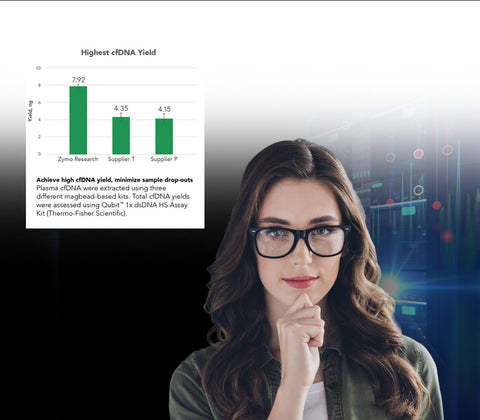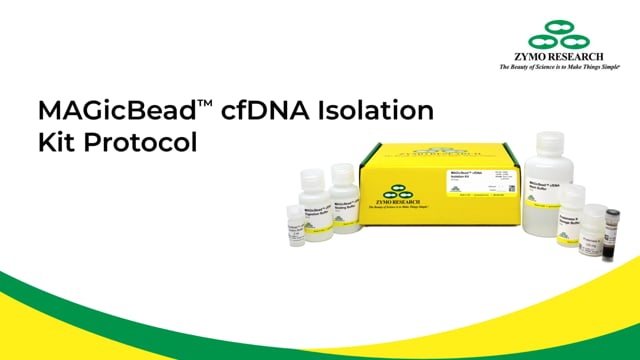 Highlights
---
Highest Yield: Robust cfDNA isolation from up to 10 mL plasma w/ unique MAGicBead™ surface technology
NGS-Ready: High-quality cfDNA from plasma, saliva, urine, etc. is ideal for NGS
Compatible: With all open automation platforms
Description
---
The MAGicBead™ cfDNA Isolation Kit features a unique, magnetic bead surface chemistry that facilitates unparalleled cfDNA recovery from biofluids. Input volumes can range up to 10 mL of plasma. It is compatible with all open automation platforms and a wide range of sample types (serum, saliva, urine, etc.). This kit features a simple, streamlined extraction process with minimal number of steps and does not require the bead drying step common with other similar procedures. Eluted cfDNA is free of enzymatic inhibitors that can interfere with PCR or other sensitive downstream applications, including Next-Gen Sequencing.
---
| | |
| --- | --- |
| Elution Volume | ≥ 15 µl MAGicBead™ cfDNA Elution Buffer. |
| Fragment Sizes | For plasma samples, DNA fragments will typically display a mono-nucleosomal peak in the 140-170 bp range and a genomic DNA fragments peak > 10 kb. However, other multi-nucleosomal apoptotic DNA fragments may also be present. |
| Processing Time | 1-1.5 hour (~15 minutes hands-on time). |
| Purity | Eluted cfDNA is NGS-ready. NOTE: Due to low levels of cfDNA available in cell-free biofluids, a spectrophotometer (e.g., NanoDrop) is not recommended for quantification or purity assessment. |
| Required Equipment | An open automation platform: KingFisher Flex/Apex (Thermo-Fisher Scientific), Fluent® X (Tecan), Microlab® STAR™ (Hamilton), OT-2 (Opentrons) and others. For manual applications, a magnetic stand compatible with conical/centrifuge tubes/plates and a rotator capable of at least 30 rpm are needed. |
| Sample Compatibility | Plasma samples derived from most blood collection tube types are compatible, including Streck DNA BCT. Plasma samples derived from blood collection tubes with heparin are NOT compatible. Highly viscous biofluids, such as whole saliva and synovial fluids, may have limited compatibility. Refer to Appendix A (Page 6) for more details. |
| Yield | Typical yields range from 0.5 ng to 20 ng from healthy donor plasma samples. This can range from 0.1 ng to 100 ng depending on the health status of donors. |
---
Q1: Is this kit compatible with automation platforms?
Yes, MAGicBead™ cfDNA is compatible with all open platforms of magnetic bead transfer systems and liquid handlers.
Q2: Is this kit compatible with Streck BCT's?
Q3: Is this kit designed to remove the gDNA fragment if present in my biofluid sample?
No. MAGicBead™ cfDNA will recover gDNA if present in your sample. We recommend applying size select (Zymo Research Select-a-Size DNA Clean and Concentrator MagBead Kit, D4084 or similar.) if your downstream assay is sensitive to presence of gDNA.
Q4: Is this kit compatible with biofluids other than plasma?
Yes, MAGicBead™ cfDNA is also compatible with serum, urine, saliva, cerebrospinal fluid, amniotic fluids, spent cell culture media, pleural fluid, bile acid and bronchoalveolar lavage.
Q5: What is the input range for plasma?
Q6: Does this kit require a magnetic stand for processing manually?
Yes, please see the product manual for recommended magnetic stands.
Q7: Can this kit be processed completely at room temperature?
Yes, please see the protocol for details.
Q8: Is PK digestion required for this kit?
Yes, proteinase K digestion can be done at room temperature or higher. Please see the instruction manual for digestion condition details.
Q9: Can I quantify my cfDNA using a spectrophotometer?
No, we do not recommend quantifying using spectrophotometers as a minimum of 10 ng/µL is required for a reliable quantification and purity assessment, which cell-free biofluids rarely yield.
---
"your protocol is compatible with Streck BCT formulations! Love this."
- Beta Tester Assessing 1-5mL Input
"The kit was very straightforward to use, and I got reasonable cfDNA yields for different plasma volumes (1.25mL, 2.5mL, 5ml and 7.5mL). A high sensitivity D1000 tapestation showed that the cfDNA isolated was predominately 140-180bp as expected..."
- Beta Tester
"Higher yield and removal of ethanol helps with downstream assays that are molecule limited and sensitive to contamination."
- Beta Tester Assessing 1-5mL Input
Read More
---
Cat #
Name
Size
D4086-5-2
MAGicBead™ cfDNA Elution Buffer
2 mL