Zymo Research Receives 510(k) Clearance for its Saliva Self-Collection & Transport Device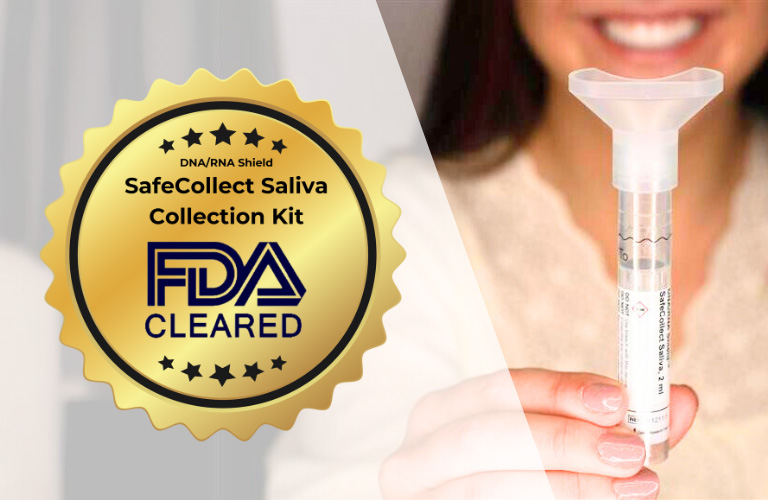 IRVINE, Calif., (November 15, 2023) - Zymo Research announced today the U.S. Food and Drug Administration (FDA) has cleared its DNA/RNA Shield™ SafeCollect™ Saliva Collection Kit as a Class II medical device for microbial nucleic acid storage and stabilization. The FDA's 510(k) clearance allows the product to be used as an In-vitro Diagnostic (IVD) device for saliva collection and transport.
Specifically granted for COVID-19 testing, the SafeCollect™ Saliva Collection Kit utilizes DNA/RNA Shield™ - the first FDA-cleared inactivating transport medium (ITM) to demonstrate inactivation and preservation of the SARS-CoV-2 RNA virus. The properties of the ITM simplify handling, transportation, and storage of the specimen while also maintaining the integrity of viral RNA at ambient temperature for extended periods, ensuring robust downstream analysis via RT-PCR.
"Non-invasive saliva collection is vital for the molecular diagnostics field, unlocking a wealth of genetic and biomolecular information with ease and comfort, paving the way for groundbreaking advancements in personalized healthcare and disease detection" said Dr. Stanislav Forman, CTO of Sample Prep at Zymo Research. "This 510(k) clearance highlights the FDA's initiative in bringing enabling technologies to the maturing molecular diagnostic space."
The product features a user-friendly spit funnel with an innovative safety seal designed to prevent accidental spillage or user exposure to the DNA/RNA Shield™ preservative reagent in the tube. The technology is compatible with human saliva suspected of containing SARS-CoV-2. Specimens collected and stored are suitable for use with appropriate molecular diagnostic tests.
For more information visit www.zymoresearch.com or contact busdev@zymoresearch.com.
About Zymo Research Corp.
Zymo Research is a privately owned company that has been serving the scientific and diagnostics community with state-of-the-art molecular biology tools since 1994. "The Beauty of Science is to Make Things Simple" is their motto, which is reflected in all of their products, from epigenetics to DNA/RNA purification technologies. Historically recognized as the leader in epigenetics, Zymo Research is breaking boundaries with novel solutions for sample collection, microbiomic measurements, diagnostic devices, and NGS technologies that are high quality and simple to use.
Follow Zymo Research on Facebook, LinkedIn, Twitter, and Instagram.