COVID-19 Testing Workflow Products
Zymo Research has supported global COVID-19 testing efforts since the beginning of the pandemic with sample collection reagents, viral extraction kits, and COVID-19 tests. In addition to a FDA EUA RT-PCR workflow, and the first 510(k)-cleared transport medium for COVID-19 testing, we also offer a wide range of custom solutions.
510(k)-Cleared Transport Medium for COVID-19 Testing
DNA/RNA Shield Collection Tube w/ Swab
The DNA/RNA Shield collection tube is intended for the stabilization and inactivation of upper and lower respiratory human specimens suspected of containing SARS-CoV-2.
Learn More
DNA/RNA Shield SafeCollect Devices
Sample collection devices for simple, non-invasive unsupervised testing. SafeCollect's patented tube features a safety seal that prevents users from spilling, ingesting, or being exposed to the stabilization solution. A unique safety seal is punctured after adding a sample to the tube, releasing the stabilization solution.
Learn More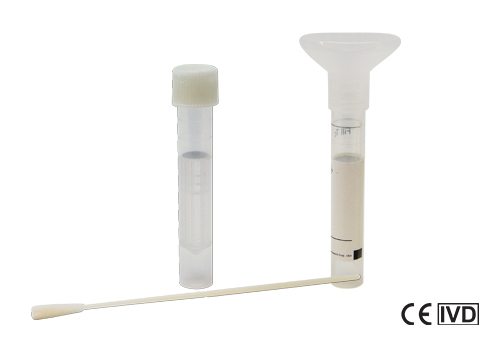 High-Throughput SARS-CoV-2 RNA Extraction
Quick-DNA/RNA Viral Magbead Kits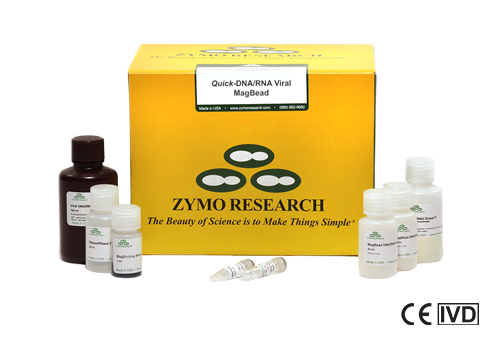 The Quick-DNA/RNA Viral Magbead Kits (R2140-E, R2141-E) are Emergency Use Authorized and CE-IVD for diagnostic use. The kits are used in Zymo Research's SARS-CoV-2 workflow and are an ideal high-throughput solution for early viral detection.
Learn More
Sensitive, High-Throughput COVID-19 Detection
Quick SARS-CoV-2 Multiplex Kit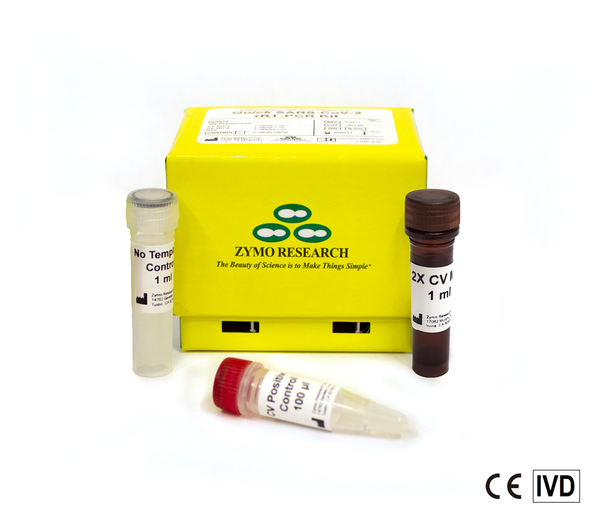 The Quick SARS-CoV-2 Multiplex Kit is a highly sensitive and specific molecular test with improved throughput capability. The ready-to-use reagents and the competitive pricing make the Quick SARS-CoV-2 Multiplex Kit the test of choice for any laboratory. The Quick SARS-CoV-2 Multiplex Kit is CE-IVD marked.
Learn More
Zymo Research's FDA EUA SARS-CoV-2 Workflow
The end-to-end workflow under the EUA authorization consists of sample collection, sample preparation, and real-time RT-PCR analysis. Intended use of the products mentioned in the graphic above may vary.
Organizations in need of reagents or complete workflows for consolidated COVID-19 testing should inquire here:
covid19requests@zymoresearch.com
Zymo Research Technology Proudly Supports COVID-19 Testing Workflows
Molecular Transport Media (MTM) Technology That Supports Monkeypox and COVID Workflows